Plants for Shade
At Thompson's, we often get asked the question "What can I plant in a shaded area of my garden?" In answer to that question, there are lots of plants that are suited to shaded conditions, and we have an area dedicated to shade-loving plants in all of our garden centres. To see a full range of plants for shaded area please visit your local branch of Thompson's and have a chat with a member of our plant team. Here in our webshop, we have selected a few of our recommended, more popular plants for shaded areas in your garden.

Shop with confidence, our hardy plants are all covered under our 3-year plant guarantee.
How a Shade Garden Can Be Colourful
Creating a colourful shade garden involves a thoughtful combination of plants with varying foliage colours, textures, and bloom times. Here are some tips to achieve a vibrant and lively shade garden:
Varied Foliage: Choose shade-loving plants with different foliage colours, such as various shades of green, silver, burgundy, or variegated patterns. The contrast in leaf colours adds visual interest to the garden.
Seasonal Blooms: Incorporate plants that bloom at different times throughout the growing season. This way, you'll have a continuous display of flowers and colours, even in the shade.
Shade-Tolerant Flowers: Select shade-loving plants with colourful blooms to brighten up the shaded areas. Flowers in shades of pink, purple, and white can add pops of colour to the garden.
Container Gardening: Use decorative containers filled with shade-loving annuals to add splashes of colour to shaded corners and patios.
Top 3 Shade-Loving Plants
Astilbe: With its feathery plumes in shades of pink, white, and red, Astilbe thrives in partial to full shade. These elegant perennials add a touch of sophistication and grace to any shade garden.

Bleeding Heart (Dicentra spectabilis): Bleeding Heart boasts heart-shaped flowers in soft pink or white, suspended from arching stems. They prefer light to moderate shade and lend a touch of romance to shaded areas.

Hostas: Known for their striking foliage, Hostas are available in a wide range of leaf colours and patterns. They thrive in shady spots, providing texture and interest to your shade garden.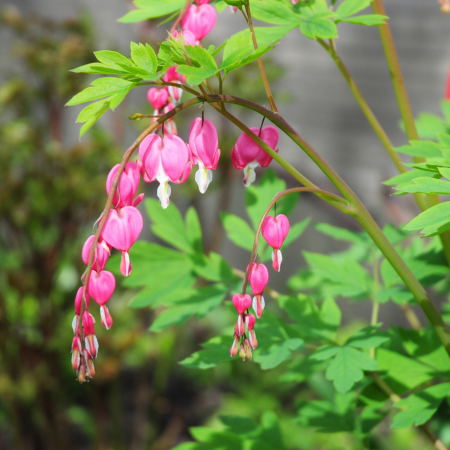 Thought about adding these?
Caring for Shade-Loving Plants
Proper care is essential to ensure the health and vitality of shade-loving plants. Here are some general care tips:
Watering: Shade gardens tend to retain moisture, but it's crucial to water consistently to keep the soil evenly moist. Avoid overwatering, as this can lead to root rot.
Soil: Ensure the soil in your shade garden is well-draining, as some shade-loving plants are susceptible to root diseases in waterlogged soil.
Mulching: Apply a layer of organic mulch around plants to conserve moisture, regulate temperature, and suppress weed growth.
Fertilizing: Use a balanced, slow-release fertilizer to provide essential nutrients to shade-loving plants. Follow the recommended application rates for each specific plant.
Pruning: Regularly remove spent blooms and dead foliage to encourage continuous flowering and maintain plant health.
Need Some Help Planting Your Shade-Loving Plants?
Whether you're planting your Pieris Forest Flame, Mahonia x media Charity or Asplenium scolopendrium, by following a few simple steps, you'll be giving your plants the best possible start to life in your garden.
Dig the hole a little deeper than the size of the container and twice as wide.

Loosen the soil in the hole so that it is crumbly.

Mix a small amount of good-quality multipurpose compost into the hole.

Remove the plant from the pot and gently tease out a few of the roots.

Place your plant in the hole making sure you don't bury the stem.

Refill the hole with a mixture of soil and multipurpose compost.

Firm the soil around the plant, making sure you don't press down on the root ball.

Water well, and keep well watered in the first season whilst it establishes itself.
If you need any other assistance with your garden plants, then please get in touch. Our experts are always on hand to answer your questions. Mail us at [email protected].