Garden Tools
Never underestimate the importance of good quality garden tools. From Spades and Forks to Hand Trowels, Secateurs and Shears, we have them all at Thompson's Garden Centre. Our online collection is only a small selection of our more popular garden tools, to see our full range please visit your local branch of Thompson's Garden Centre.
There's no gardening without secateurs
One essential tool for any gardener is a sturdy pair of secateurs. Whether you need to prune your shrubs, deadhead your flowers or harvest your crops, a good pair of secateurs will make the job easier and more efficient. Thompson's stocks a wide range of secateurs from top brands like Elements and RHS, so you're sure to find the perfect pair to suit your needs.
Must-have garden tools at Thompson's
Digging spade: makes heavy-duty soil turning jobs easy. Lightweight, easy-clean stainless steel blades are best.
Garden fork: great for digging stony soils, mixing in a layer of compost, or weeding larger areas.
Hand trowel: essential for transplanting seedlings and planting bulbs: blades marked with measurements make judging planting distances easy
Weeding fork: careful weeding among established plants needs an easy-to-manoeuvre hand fork.
Rake: use for raking spring seedbeds, levelling soil in summer, or gathering autumn leaves to make leaf mould soil conditioner.
When to prune?
The timing of pruning and garden maintenance largely depends on the specific plants in your garden and your local climate. However, there are some general guidelines that can be followed to ensure that your garden is well-maintained throughout the year.
For deciduous trees and shrubs, pruning is typically done during the dormant season, which is usually in late winter or early spring. This is when the plant is not actively growing, making it easier to see the structure and shape of the plant and to make clean cuts.

For flowering shrubs and trees, pruning is often done after they have finished blooming. This allows the plant to produce new growth and flower buds for the following year. For example, spring-flowering shrubs like lilacs and forsythia are typically pruned immediately after they finish blooming in late spring.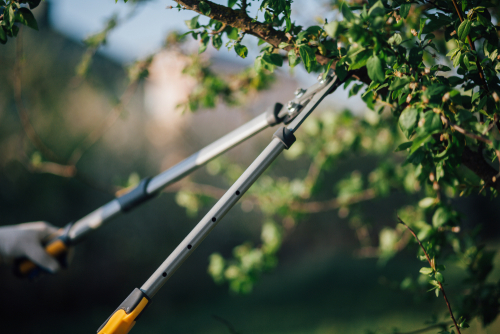 Different kinds of pruning tools
Which tools you exactly need depends on the plants that you have in the garden, but the following selection is a good start:
Secateurs: these are used for branches up to 2 cm diameter.
Loppers: these are used for thicker branches up to 5 cm diameter.
Pruning saws: for medium-sized branches.
Bow saws: for large tree work.
Overhead pruners: when a branch is out of reach, this is the right tool to use.
Buy garden tools at Thompson's
At Thompson's Plant Centre, we offer a range of high-quality garden tools, including spades, forks, shears and many more. Our team of experts can help you choose the right tools for your gardening needs, as well as providing tips and advice on how to use them effectively.
Visit us in-store or online to explore our range of garden tools and start creating a beautiful and healthy outdoor space today. With the right tools and techniques, maintaining your garden can be a rewarding and enjoyable experience.