Fencing & Trellis
If you're looking for a way to enhance the backdrop of your garden or create more privacy, consider using fencing or trellis to support beautiful trailing plants. These structures not only add height and interest to your outdoor space, but they also provide a perfect canvas for vibrant and colourful flowers and foliage.
Fencing and trellis come in a variety of styles, sizes and materials, so it's easy to find one that fits the aesthetic of your garden. The timber used is sourced from responsibly managed forests. Use the filter on the left-hand side to select the right size. You can order fencing and trellis online or buy it in store.
Which trailing plants can I put against my fence?
Once you have chosen your fence, the next step is to select the right trailing plants to grow on it. Some popular options include climbing roses, clematis, honeysuckle, and jasmine, all of which can add fragrance, colour and texture to your garden.
When planting your trailing plants, it's important to consider their individual needs. Some plants require full sun, while others thrive in shaded areas. You should also make sure that the soil is well-drained and that the plants have enough space to grow and spread out. Regular pruning and maintenance will help to ensure that your plants stay healthy and strong.
Timber sourced responsibly
Using timber sourced from responsibly managed forests ensures that the wood is harvested in a way that maintains the health and diversity of the forest ecosystem. This means that not only is the wood of a high quality, but it is also renewable and does not contribute to deforestation or harm to wildlife habitats.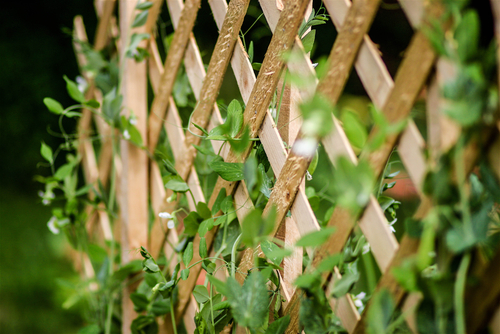 A touch of privacy
Adding privacy to your outdoor space can be achieved in a number of ways, but one of the most effective methods is by using fencing or trellis. These structures provide a physical barrier between your property and your neighbours, as well as creating a more secluded and intimate environment for you to enjoy. . You can create a secluded outdoor space where you can relax and unwind, surrounded by the beauty and tranquility of your garden.
Buy fending and trellis at Thompson's
At Thompson's Plant Centre, we offer a range of fencing and trellis options to suit any outdoor space. Our team of experts can help you choose the right structure and plants to create a private and beautiful oasis for you to enjoy. Visit us in-store or online to explore our range of products and start creating your dream outdoor space today.