About us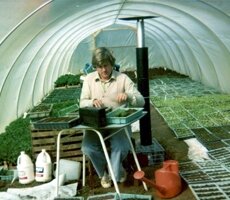 Thompsons Plant & Garden Centres are a family run Garden Centre group consisting of four Retails sites. We specialise in supplying our garden centres with our very own plants, grown on four nursery sites in the south-east.
Our growing nurseries all specialise in particular areas, helping us make sure we supply our own garden centres with a diverse choice of freshly delivered plants. Our plants are all grown in the south-east, are fresher and a better quality as they have fewer miles to travel to their destinations.
As well as our extensive collection of plants we aim to provide everything you would need for your garden. At all of our garden centres, you will find compost, weedkillers, insecticides, lawn care products, plant food, watering equipment, houseplants, fencing, stoneware, tubs and baskets, fruit & vegetables and much more.

History Of Thompsons
The Thompson Group started as a partnership between Mr and Mrs Thompson in 1977. They bought a three acre derelict orchard near Canterbury and set about converting it into a small nursery where they grew and sold plants, fruit and vegetables, and little else. At the time, Mr & Mrs Thompson had other jobs and they were able to give these up as the business grew.

The founding Principle of the business was to grow the best quality plants and offer them direct to the public at reasonable prices. This strategy provided growth and it was not long before some land was rented to grow Hardy Nursery Stock. This was opposite the retail site and was eventually named after the farmer Bill Wood who gave the land to Mr & Mrs Thompson, this site is known as Woodlands Nursery.
During the 1980's both the site at Chislehurst and Welling were brought and became the leading retail sites for the company, the retail site at Petham was converted over for production.
The company grew in size and acquired a further nursery in Surrey, at which point the Petham Site was converted back over to Retail. In 1992 the retail site on the Isle of Wight was purchased and started to trade. A further three production sites were purchased on the Isle of Wight and these specialised in other areas of plant production.

The most recent addition to the Thompson Group is our Christmas Tree farm on the Isle of Wight. It consists of three separate pieces of land, one of which serves as a retail site for the Month of December. This site now enable us to grow and supply our Garden Centres with our very own trees.

Why Thompson's? - One Family's Vision of a Grower Retailer

Thompson's Nursery was started by David & Ursula Thompson.
Their vision was to grow the best quality plants and sell them directly to gardeners. They would use their knowledge and shared experiences with customers to help experienced and novice gardeners alike, get the most from their gardens.
Over forty years and one generation later the ideas of "Mum & Dad" still guide our decisions. We still look to grow the best quality plants on our dedicated production nurseries and sell them directly to you our gardening customers.
We understand that there is plenty to know about getting the best from your garden and as well as providing great plants, we also want to be there to help you plant and prosper your garden.
Our nursery managers are always on the look out for the best varieties of plants to grow. Our team of buyers look at finding proven products to support your gardening needs, and our retail teams are there to answer your questions, and help you find the right plants for your garden.
We are also here to help with any problems you might have and regularly give advice on how to solve problems with plants that do not grow well, or help improving the soil conditions, dealing with persistent bugs and diseases, as well as sharing success stories and photos.
We sell our role as your Gardening partners. Growing plants you want, having them available when you want them and being around to help you grow them well.

Building Beautiful Gardens!

John Thompson
Director