Summer Colour
Summer is when your garden comes alive with an abundance of colourful plants. There are so many shrubs, perennials, climbers and seasonal plants to choose from at Thompson's garden centre, it really is a blooming marvellous time of year to visit us. We have a great selection of vibrantly coloured plants that will help to brighten up any garden. Below is a small selection of our favourite plants, for our full range of plants please visit us in store.
When to plant summer flowering plants?
To enjoy the full splendor of these summer blooms, it's essential to plant them at the right time. In the UK, the best time to plant summer flowers is in late spring when the risk of frost has passed. Typically, May is an excellent month to start planting your summer garden. However, it's worth checking the specific planting guidelines for each plant variety to ensure the optimal planting time.
Can I plant these plants in summer?
Yes, you can still plant summer flowering plants in July and August, especially in the UK. While the ideal time to plant most summer flowers is in late spring or early summer, many varieties can still be successfully planted in summer. The weather in the UK during July is generally warm, which provides favourable conditions for plants to establish their root systems quickly. Try planting Zinnia, Cosmos, Marigolds, Salvia or Helenium.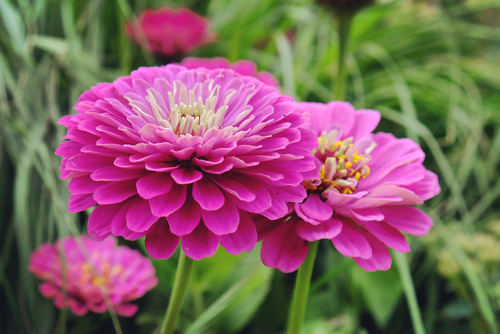 Plants for All Seasons
Here at Thompson's, we have garden plants to suit all seasons in your garden. If you're looking for a shrub with Spring Colour or a perennial that flowers throughout Summer, then browse our online collection to see our highly recommended plants. Can't find what you're looking for? Our webshop is only a small selection of the plants we sell, come and visit us at your local branch of Thompson's for our full range.
Summer Flower Plants to Bring Your Garden to Life
Roses: Known for their elegance and fragrance, roses are timeless summer blooms that come in a range of colours and varieties. From climbing roses to compact shrubs, they add romance and charm to any garden.

Geraniums: Geraniums are versatile summer flowers that are easy to care for and come in a spectrum of eye-catching hues. Their cheerful blooms are perfect for borders, containers, and hanging baskets.

Cosmos (Cosmos bipinnatus): With delicate, daisy-like flowers, cosmos bring a touch of whimsy to the garden. These fast-growing annuals are available in various colours, including white, pink, and deep magenta.

Sunflowers (Helianthus annuus): Sunflowers are the epitome of summer joy. Their towering stems and large, sunny heads make them a favorite for attracting pollinators and creating a stunning focal point in any garden.

Lavatera: Lavatera, also known as mallow, is a hardy plant with showy, trumpet-shaped flowers that bloom profusely throughout the summer. They add a splash of colour and are excellent for attracting butterflies.
Need Help With Your Planting?
Whether you're planting your Aucuba japonica Rozannie, Photinia x fraseri Red Robin or Viburnum tinus Eve Price, by following a few simple steps, you'll be giving your plants the best possible start to life in your garden.
Dig the hole a little deeper than the size of the container and twice as wide.

Loosen the soil in the hole so that it is crumbly.

Mix a small amount of good-quality multipurpose compost into the hole.

Remove the plant from the pot and gently tease out a few of the roots.

Place your plant in the hole making sure you don't bury the stem.

Refill the hole with a mixture of soil and multipurpose compost.

Firm the soil around the plant, making sure you don't press down on the root ball.

Water well, and keep well watered in the first season whilst it establishes itself.
If you need any other assistance with your garden plants, then please get in touch. Our experts are always on hand to answer your questions. Mail us at [email protected].