Shrubs
Grown on our very own nursery, a shrub is a small to medium-sized plant with woody stems above the ground. It can be evergreen or deciduous and will form the backbone of your garden for many years. At Thompson's, we pride ourselves on growing a large variety of shrubs to give our customers a greater choice for their gardens. We also offer a 3-year hardy plant guarantee so that you can buy your shrubs with confidence. For a full range of our shrub varieties, please visit your local branch of Thompson's.
Add shrubs to your garden
Shrubs are a versatile and essential component of any garden, bringing year-round interest and structure to your outdoor space. These woody plants are distinguished by their multiple stems and typically reach a height between a few feet to several meters. With a wide range of sizes, shapes, and foliage colors, shrubs offer countless options to suit various landscaping needs.
Combine your shrubs with some of these
Thompson's Top 5 Shrubs
Lilac (Syringa vulgaris): Known for their captivating fragrance and stunning spring blooms, lilacs are classic flowering shrubs that add charm to any garden.

Boxwood (Buxus sempervirens): A popular choice for formal gardens, boxwood shrubs feature dense, evergreen foliage that can be easily shaped into hedges or topiaries.

Hydrangea (Hydrangea spp.): With their large, showy flower heads, hydrangeas come in various colors and are excellent for bringing a burst of color to your garden.

Forsythia (Forsythia spp.): These early bloomers dazzle with their bright yellow flowers, heralding the arrival of spring.

Japanese Skimmia (Skimmia japonica): Offering year-round interest, Japanese Skimmia features glossy evergreen leaves and fragrant flowers, followed by attractive red berries.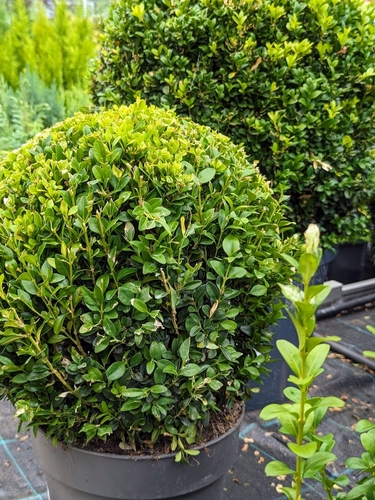 Green Shrubs vs. Flowering Shrubs
Green Shrubs: Green shrubs, like Boxwood and Japanese Skimmia, provide a constant backdrop of lush foliage that adds structure and elegance to your garden throughout the year. They serve as the perfect canvas for other colorful plants to shine.
Flowering Shrubs: Lilac, Hydrangea, and Forsythia fall into the category of flowering shrubs, which steal the spotlight with their vibrant blooms. These enchanting blossoms inject splashes of color and bring a sense of vitality to your garden.
When and Where to Plant Shrubs
The best time to plant shrubs is during the cooler months of spring or autumn when the soil is workable. This allows the shrubs to establish their root systems before facing extreme weather conditions. Choose a location that matches the plant's sunlight and soil preferences to ensure their optimal growth.
Need some help planting your shrubs?
Whether your planting your Aucuba, Buddleja or Viburnum, by following a few simple steps, you'll be giving your shrub the best possible start to life in your garden.
Dig the hole a little deeper than the size of the container and twice as wide.

Loosen the soil in the hole so that it is crumbly.

Mix a small amount of good quality multipurpose compost into the hole.

Remove the plant from the pot and gently tease out a few of the roots.

Place your shrub in the hole making sure you don't bury the stem.

Refill the hole with a mixture of soil and multipurpose compost.

Firm the soil around the shrub making sure you don't press down on the root ball.

Water well, and keep well watered in first season whilst it establishes itself.
If you need any other assistance with your garden plants, then please get in touch. Our experts are always on hand to answer your questions. Mail us on [email protected].
Thompson's Plant Centre: Your Destination for Exquisite Shrubs
For a stunning collection of shrubs, visit your local Thompson's Plant Centre or explore our wide selection online. Whether you desire the elegance of green shrubs or the vibrancy of flowering varieties, we have the perfect options to suit your gardening needs. With our expert advice and high-quality plants, you can create a captivating garden that will flourish for years to come. Embark on your gardening journey with Thompson's Plant Centre today!