Potted Christmas Trees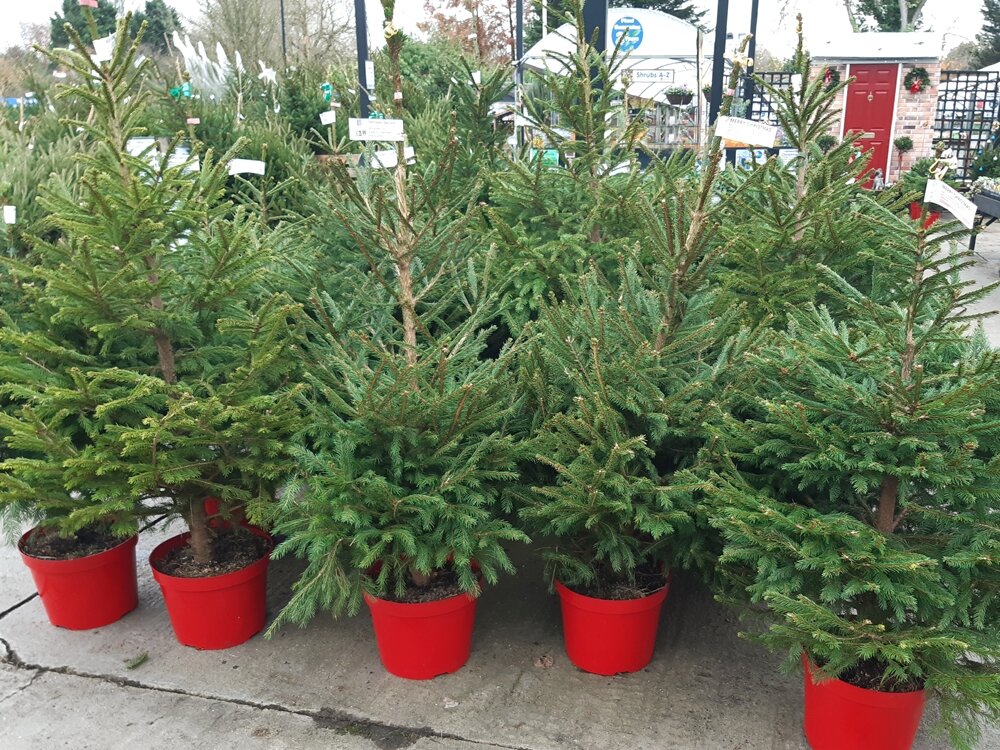 Have you discovered the benefits of potted Christmas trees? Potted Christmas trees make the perfect addition to your Christmas home. Containerised Christmas trees can be kept for up to three years. They're easy to maintain, simple to decorate and low-fuss. If you're looking for a decent tree for your living room, bedroom, or office, Thompson's Garden Centre is your go-to for a potted Christmas tree. Thompson's has an even more extensive range of potted Christmas trees this year. Discover our range and get your perfect potted Christmas tree for the holidays.
Potted Christmas trees are available from November 6th.
Available potted Christmas trees
If you're looking for a real Christmas tree but don't want a cut tree, then potted is the answer. Thompson's stocks various potted Christmas trees, with sizes from 1ft up to 5ft in height. Choose from:
Norway Spruce
Blue Spruce
Nordman Fir
Serbian Spruce
Albertina Spruce
These containerised trees are great for smaller areas of your house. Please visit Thompson's Garden Centre or enter our webshop to purchase a potted tree online.
Benefits of potted Christmas trees
Did you know that potted Christmas trees are the best sustainable choice if you want to do less harm to Mother Nature? Potted Christmas trees give you the ability to plant them in your garden when the holiday season has come to an end, rather than simply tossing them to the curb. You can leave the potted Christmas tree in its pot or plant it directly in the ground. A pine adds year-round interest to your garden with its evergreen foliage. Dig out the Christmas tree or transplant it to a larger pot when Christmas comes around and bring it back indoors. This is the most sustainable way to grow a Christmas tree at home.
Potted Christmas tree near me
If you want to find a potted Christmas tree supplier near you, please look up Thompson's. We have four locations in Chislehurst, Newchurch, Petham and Welling, which means there's always a location close by. Enter our locations page to plan your route to one of our locations.
How to care for your potted Christmas tree
Enjoy a potted Christmas tree as long as possible by following these care tips: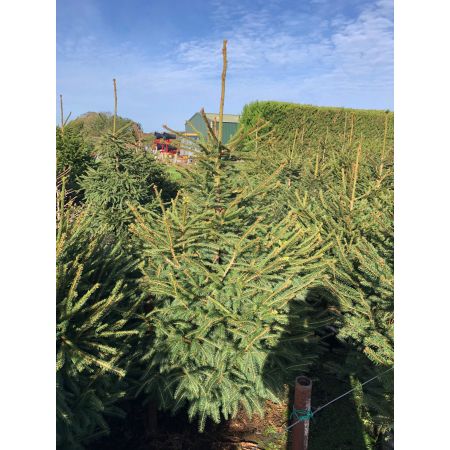 Before bringing it into the house, let your tree acclimate in a sheltered, unheated location, such as the garage or barn. We recommend at least 24 hours.
Pick a location that's not too close to a heat source. A cooler place is better than a warm one.
Water regularly, and be prepared for water overflow under the pot by placing a saucer underneath. Help the tree absorb the water slowly by using ice cubes. Place the ice cubes on the pot's surface, and they will slowly melt and gradually water the tree. You can also cover the soil with mulch to keep it from drying out.
Decorate your potted tree with care. Choose not too heavy ornaments to avoid branches getting damaged by the weight.
Return it outside after Christmas. This is one of the best benefits of potted Christmas trees. You don't have to dump the tree on the street, you
Boy potted Christmas trees at Thompson's
Now you know that pot grown Christmas trees can last year after year; you're dying to get one yourself. Thompson's is your place to buy the most beautiful Christmas trees for Christmas 2021. Please enter our webshop to see which potted Christmas tree is best for you. We stock different sizes, ranging from 2-3ft (60-80 cm) to 4-5ft (120-140 cm). Are you looking for larger trees than available at the webshop, please get in touch with us. Just send an e-mail your enquiries to [email protected].