We Grow Our Own Christmas Trees
Looking for freshly-cut Christmas Trees? At Thompson's, we aim to supply all of our Christmas trees from our very own nursery on the Isle of Wight. We can ensure that we only sell good quality, freshly cut Christmas trees to our customers by growing our own trees. Are you looking for a locally-grown tree that's top quality for a sharp price? Please visit Thompson's Christmas Tree webshop.
Cut trees are available from November 26th at all our garden centres.
Containerised trees are available from November 4th at all Garden Centres.
How to Choose The Perfect Christmas Tree?
To decide which Christmas Tree suits you best, we recommend you look at our videos. Read the advantages and disadvantages per species and make your decision. If you can't decide which tree is best for you, we invite you to check our fantastic range at Thompson's Garden Centres from November 26th.
1. Nordman Fir Christmas Tree
Nordmann Firs are the most popular trees to use as Christmas trees in the UK. We offer various sizes from 3ft up to 12ft.
Here's why you should buy a Nordman Fir at Thompson's: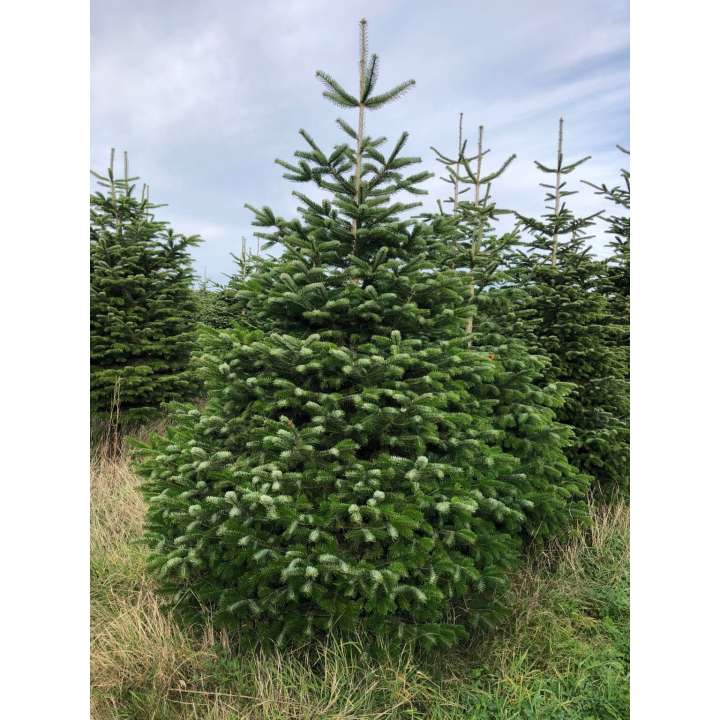 It has excellent needle retention after it's been cut.

It also forms a shapely tree that is not too bushy.

It has aromatic dark green foliage.

The needles are round and don't sting.

It has more open growth than other trees.

Strong branches that are great for hanging decorations on.

A great all-round Christmas tree for the family to enjoy!




2. Norway Spruce
This is the original, traditional Christmas tree. One of the most popular varieties is the Norway Spruce Christmas tree. This traditional tree is found in many homes at Christmas. Sizes ranging from 3ft to 12ft.
Here's why you should buy a Norway Spruce:
Famous for its wonderful pine scent: it smells fresh with a hint of citrus.
The needles tend to be more spikey than Nordmann Firs'.
Although it's not needle-fast, it will have minimal needle loss if kept well-watered and away from direct heat sources.
It's an ideal tree for indoor displays with a classical Christmas tree shape.
Relatively cheaper than Nordmann Firs.
Although the Norway Spruce is now known for its excellent needle retention, many fans believe the delicious pine scent is totally worth the extra clean-up.
3. Blue Spruce
The Blue Spruce is a beautiful tree that has unique blue-grey tints to its dark green needles. It's a bushy tree with dense, strong branches that are great for hanging decorations on. It's also got a great smell to it too! Here's why a Blue Spruce is the best choice as a Christmas tree:

It has minimal needle drop if watered well and is kept away from direct heat sources.

Fantastic silvery-blue colour to its needles

Stiff branches that hold ornaments well.

Strong fragrance gives you the essence of Christmas.

Sharp needles, so beware with little kids and pets






4. Potted Trees
Pot-grown Christmas trees can last you year after year. Once you've finished with it in your home, you can plant it in your garden in the new year. We buy the trees as seedlings and grow them in a 2-litre pot using peat-free compost before replanting them in a larger pot after the first year.

Great as a second smaller tree in your home
Can be planted in your garden after Christmas
A great space saving option
Less needle drop, as the tree is still growing in the pot and will be less likely to shed.
Avoid direct heat and a warm room
Keep watered




How to Look After a Real Christmas tree
If you've bought a Christmas tree, you want to keep it fresh for as long as possible. Most Christmas trees last 3-4 weeks indoors. Here are a few tips for maintaining your Christmas tree:
Keep the tree in a sheltered outdoor place or in cool conditions until required for decorating. This helps the tree acclimatise.
Saw 1 inch off the stump when you're planning to start decorating. This makes the trunk absorb water better.
Keep your tree well-watered by refilling the water base daily. Place your cut tree in a sturdy stand that holds at least one gallon of water.
Avoid placing your Christmas tree next to a heat source. Lowering the room's temperature can help slow down the drying process and needle loss.
Avoid using too heavy ornaments. Some branches can bend by holding on to giant decorations and baubles. If you want to hang large ornaments in the tree, hang them close to the trunk, where the branches are most viable.
Buy Christmas Trees at Thompson's
Thompson's has been your favourite Christmas tree supplier in the London area. From November 26th, we sell various Christmas trees of top quality. We have several sizes available, varying from 3ft to12ft and even more significant if needed. Please get in touch with us if you're interested in a larger tree than 12ft. You can visit our garden centre or purchase your Christmas tree online. Pre-order a Christmas tree and collect it from 4 different locations from November 21st.