Summer Bedding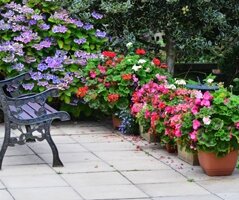 Spring brings the start of our Summer Bedding plant collection.

Grown on our very own nurseries we have a huge choice of plants with many varieties and colours available. Planting up your beds, borders tubs and baskets now will provide your garden with an abundance of colour throughout the summer. Choose from all your favourites like Begonia, Lobelia, Geranium, Impatiens, Petunia, Marigolds and more. Because at Thompsons, we grow our own plants, we are able to provide a fresher, better quality of plant to our customers. We grow our bedding plants in batches, so as we sell through one batch, then next batch is being prepared, providing a continuous supply of fresh plants over the next couple of months.

We pride ourselves on being able to offer you more choice with your bedding plants as well. For the majority we sell we have a number of different species to choose from. To give you an idea, below are just some of the varieties on sale at our garden centre.
Lobelia - 11 varieties
Begonia - 6 varieties
Impatien - 6 varieties
Geranium - 12 varieties
Petunia - 18 varieties
Surfinia - 12 varieties
Bacopa - 6 varieties
Diascia - 6 varieties
Fuchsia Bush - 12 varieties
Fuchsia Trailing - 12 varieties
Fuchsia Hardy - 12 varieties
For those of you keen gardeners that like to plant up your baskets, we also have a basket and patio collection which includes the following and more.
Bacopa
Begonia
Brachycomb
Bidens
Centradenia
Cuphea
Diascia
Gypsophila
Helichrysum
Lantana
Lobelia
Nasturtium
Verbena
This year our bedding plants are grown in new fully recyclable blue pots. Find out more here: https://www.thompsons-plants.co.uk/recycled-plant-pots
Make sure you protect your summer bedding plants from frost during early April. Please be aware that we are unable to guarantee that we will have all our varieties of bedding plants in stock at any one time. You can always talk to a member of our plant team if there was something specific you're after.