Plants for Ground Cover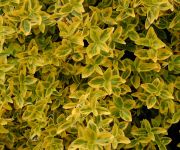 Ground cover plants are low-growing plants that form mounds or carpets. They help to cover bare soil quickly and can be low maintenance plants for your garden. Used to fill gaps towards the front of your borders as well as underneath the bases of larger shrubs, they can also help to suppress weeds in your garden.
Our expert growers have picked out our top five Ground Covering plants for your garden. Some of the examples or varieties of plants may not be available all year round, but we can always offer an alternative. Please ask the staff in our Chislehurst, Newchurch, Canterbury and Welling garden centre for more information and advice about choosing plants for shade.
Cotoneaster - Masses of small white flowers early Summer with an abundance of bright orange-red berries come Autumn. This dense, small shrub with arching branches are easy to grow in any soil. Varieties include; Horizontalis, Horizontalis Varigatus, Eichholz and Lacteus

Euonymus - Evergreen shrubs for sun & shade. Low growing, attractive variegations in leaves. Easy to grow, likes any soil. Varieties include; alatus Compactus, Emerald Gaiety, Emerald & Gold, and Bravo

Hardy Geraniums - A long flowering period during Spring & early summer, with a spreading ground covering habit. These easy to grow perennials like sun or semi-shade. Varieties include; Brookside, Johnson's Blue and Splish Splash

Heuchera - Excellent all year interest. These neat, compact, tidy plants are known for their colour foliage and low maintenance. Ideal for sunny, part shaded areas and will do very well in the front of borders. Varieties to choose from include; Palace Purple, Autumn Leaves, Obsidian and many more.

Vinca - A vigorous trailing evergreen shrub. Blue/white star shaped flowers from April/June & until Autumn. Great for ground cover and is happy in shade or sun. Varieties we grow include Atropurpurea, Minor Alba and Gertrude Jeykll.