Potted Christmas Trees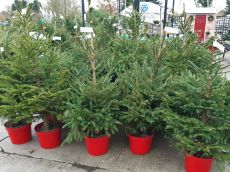 This year at Thompson's we have an even bigger range of potted Christmas trees.

Choose from Norway Spruce, Blue Spruce, Nordman Fir, Serbian Spruce and Albertina Spruce with sizes from 1ft up to 5ft in height. These containerised trees are great for those smaller areas of your house with the added benefit of being able to plant it in your garden after Christmas.

If you're looking for a real Christmas tree but don't want a cut tree, then potted is the answer.